"Do not let this person near a kitchen"
I once set fire to the royal kitchen
People don't realize that you can save a bundle by being inventive in the kitchen. I mean, those little rice square cereals make wonderful mini-pizzas. Of course, it can be difficult cutting the pepperoni into small enough pieces to fit, and that pizza wheel cutter? Please. Let's not go there.
PIzza sauce and hamburger added to packaged mac and cheese make a great, fast meal. It is better to prepare the macaroni and cheese first...and you might want to brown the meat before adding it, but if you forget, don't worry. The pizza sauce is red, you see, and if the hamburger is undercooked, who's to know?
If your turkey pan is a little too small, don't force the bird in anyway. Even if you use a cooking bag. Trust me on this one.

WE have a large family. I had three girls and a son. We adopted three more. There are now 12 grandkids and a 13th is on the way.
When I was young, I didn't know the only way the "pill" was 100% effective is if you hold it between your knees.
Now, all these kids later, Charlie and I know a few things:
We're young at heart, but old everywhere else. At night, we like to sit on the deck and reminisce. It's getting harder, though. We don't remember that much. We're in fairly good health, though I did quit working out. My tee shirt says " No Pain- No PAIN.
And we were into healthy foods for a while. Now we need all the preservatives we can get!
But we feel rich. We started out with nothing, and we have most of it left.
Life is great and we intend to live forever. So far, so good.


WORKING AT THE BALL PARK CONCESSION STAND can be tedious. Tiring. Hard on your love life.
Last night, I had a number in the "missed calls" message on my cell phone.
"Do you know what 8-5-4-2-5-0-0 is?" I yelled back to him from my place at the concessions stand counter,
"Yeah, it is slow, what inning is it?" Charlie answered flipping another burger on the grill.
"No. Not slow. What is that number?"
"Thunder? No, I didn't hear any. There aren't any watches out, that I know of."
Someone in the stands asked us to be quiet. He couldn't hear the announcer.
"They want us to be quiet," I told Charlie.
"What about tonight?" he asked.
"Not tonight," I said. "Quiet."
"That's okay, honey," he said. "You're real tempting, but I'm too tired for tonight too."




CHARLIE FLIPPING BURGERS AT THE LIONS STAND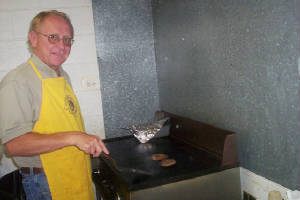 FLIES ARE PROTEIN, RIGHT?
As a senior citizen was driving down the freeway, his
car phone rang. Answering, he heard his wife's voice
urgently warning him, "Herman, I just heard on the news
that there's a car going the wrong way on 280. Please be
careful."
"Well," said Herman, "It's not just one car. It's
hundreds of them!"